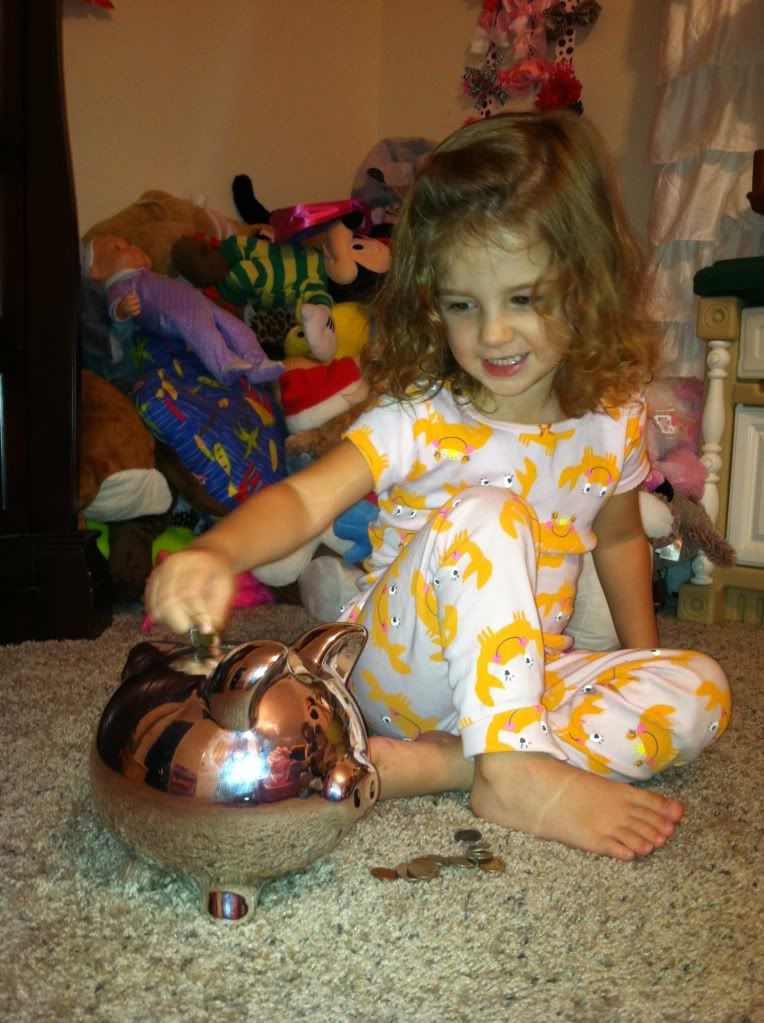 Sometimes Madi says certain things to me that make me feel like if I look over at her, I'll see an adult. They literally leave me speechless because I just do NOT expect them to be coming from a 2.5 year old.
She's kind of obsessed with her boo-boo's lately. If she has one on her leg, she'll talk about it all day, and show it to everyone. It's pretty serious business. Anyway, we were eating and she says, "OH MY GOODNESS I HAVE A BOOBOO ON MY HAND!!" and responding to her tone alone, I asked to see it. She showed me her red-tinged palm and when I made an "OMG" face, she giggled and said, "It's just ketchup, Mommy." I seriously didn't even have a response. My 2 year old just pranked me... and she did it WELL.
Then today while we were driving home from school, she asked me, "Mommy, are those new 'rings?" (earrings). She said, "I LOVE your new 'rings, they're so pretty." I told her thank you and she said "welcome." She just doesn't seem like she's 2.
She's pretty manipulative though. She skinned her knees the other day while we were outside walking. By her reaction, you'd think she would have bled out. It was a BIG thing. So when we got home, she made my Dad and Mom carry her everywhere. She said, "My knees are boken, carry me!" She absolutely refused to straighten her legs out because it would pull on that skin and make it hurt. The skin that she hurt really wasn't bad at all, but she absolutely took advantage of it and got carried everywhere for 2 days. She would excitedly tell the story of how it happened with a big smile on her face, "I was HOP-HOP-HOPPING like a bunny and I fell down!" then she'd make a sad face and ask to be carried... ;)
We met Izzy and Holly for a playdate at the Lego Store today and there was a Star Wars display in the window of that little green dude with the pointy ears (I don't know his name, those shows aren't my thing...) Anyway, she picked him up and held it up to her face and started dancing. It was hilarious. Everyone was looking because it really looked like this green dude was dancing. Well, in the process of this, she knocked some stuff over. When she realized it, she dropped everything and RAN. Even though she was being a pain, and not listening to my suggestions to get out of the window display, it really was funny.
Tonight we got locked out of the house. I told her that we would have to wait a little bit until Nonna got home with the house key. She said, "Let's just drive around and listen to Kenny until she gets here." (Kenny Chesney) This doesn't surprise me, you know, because she is my child. I was just really really proud. Needless to say, we opened the sunroof and sang along with Kenny, breathing in the cold night air. Just me and my girl.
Everyday she says something that surprises me. She's hilarious and has a sense of humor even if she doesn't realize it. She's 2 going on 16, that's for sure.
(Madi and Me is now featured on TopMommyBlogs.com! If you like reading this blog, vote for us. Just click the link, or the icon on the right side bar.)